The energy transition is also geopolitics – and more than you might think
February 16, 2023
Our guest in episode 16 of ESG (Even Samen Gevat) is Rob de Wijk, an expert in international relations and security. Rob is also the founder and director of research institute The Hague Center for Strategic Studies (HCSS) and Emeritus Professor of International Relations at Leiden University. Marloes and Aldert speak with him about geopolitics and the energy transition.
The word 'geopolitics' comes up quite often in the podcast with Rob de Wijk. 'My real interest is in geopolitics and the great changes that are now taking place.' One such great change that he's keen to place in a larger context is the energy transition.
Complex world
'The world is more complex than many people think', says Rob. That's what makes the energy transition such an incredibly complicated problem. Part of that is down to the dependence on raw materials 'from countries with authoritarian regimes that many people feel you shouldn't do business with. But if you don't do that, you can't go green, for example. Such an energy transition has everything to do with developing new technologies, and to do that you need things like semiconductors from the Democratic Republic of the Congo, Russia and China.' That gives those countries a powerful lever, which can't be ignored. If you do ignore it, you'll undermine your competitiveness: 'So you really need to watch out for that, otherwise you'll no longer be able to pay the bill for going green. Less CO2 emissions by 2030? Great, I'm for that too; but at the same time you really need to understand the consequences.'
Rob believes it's important to keep seeing the transition truly as a change process. To him, this means, for instance, that we must keep investing in fossil fuels – a discussion that's actually still too often avoided, except by activists. But that doesn't mean he's against activism: 'because that's what keeps us sharp.' However, he does think that activists are too quick to draw conclusions and want too much too soon: 'They don't think about the practicability of the transition. Nor is that their job. That's what we have politicians and managers for.' And that's difficult enough, because the laws and regulations in this area are often vague, for example, which can be seen by the discussion around Boskalis, which is thinking of moving to another country partly for this reason.
'Business is increasingly an instrument for political action'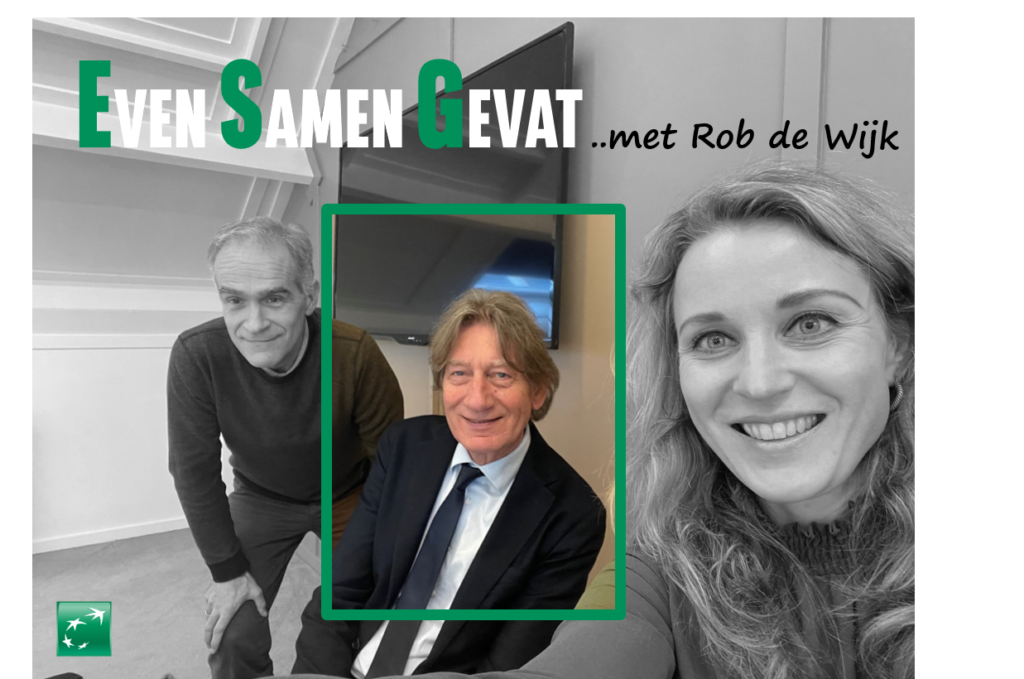 Geopolitical playthings
The Boskalis example shows that companies are being held increasingly responsible for the entire production chain, including raw materials and energy, which means they need to think more about what Rob calls 'geopolitical due diligence' and 'supply chain due diligence'. 'Business is increasingly an instrument for political action', he says. That can be seen by the trade war between the United States and China: 'The Americans don't want China to get hold of the most advanced chips and so are willing to impose secondary sanctions against Korea, for example, but also against the Netherlands with ASML, which in effect has become a geopolitical plaything.'
Sanctions and boycotts
Rob believes the sanctions and boycotts against Russia show that governments and policymakers don't always make the best decisions: 'What we've done is actually according to the book – but it's the wrong way.' The point of the sanctions and boycotts was and is to hit Russia hard economically and put an end to the war. 'But that hasn't happened. And it's not going to happen either. Sanctions are always a second-rate solution. There isn't a single example of a military venture that's been stopped under the pressure of sanctions. Never ever.'
Hydrogen and morality
Back to the energy transition. Many experts agree that hydrogen will play a big part in this area, but Rob warns us not to be naive. 'Keep that international context in mind here too', he says. Why? Because we in Europe or in the Netherlands can never be self-supporting. 'We have calculations showing that Europe can meet roughly 50% of its own hydrogen needs. We'll have to get the rest from other countries. And guess which countries those are? Well, one of them is Saudi Arabia, which aims to become the world's largest supplier of hydrogen. The pipelines have already been laid.' That means lasting dependence – in this case not on Russia but on several countries in North Africa and the Middle East. So what about human rights? 'I don't ask myself that moral question', replies Rob. 'Morality is not an issue in international relations, especially not if we're talking raw power politics.'
"I was pleasantly surprised by the power of Europe."
Positive
So is there anything positive that can be said? Well, yes actually. In his book De slag om Europa, Rob was positively surprised by how Europe continually adapts to all kinds of crises. 'I was pleasantly surprised by the power of Europe.' I think it's a good idea for Brussels to have certain exclusive powers; that makes Europe a real power block. That's something not only Putin has figured out, but also Trump at the time. 'What we're really good at is protecting our internal market and using that to force countries to change their behaviour. But what we're not good at is using our power offensively.' The Americans are much better at "traditional power politics". Europe has not been good at that game and has therefore hugely overestimated itself. 'If you want to know how international power politics work, just have a look at the western Balkan. The European Union is the biggest there – let there be no mistake about it – also in terms of investments, but the Chinese and Russians are naturally also busy manifesting themselves in that area. They don't want the EU to get even bigger and therefore more powerful. That also goes for the US to a certain extent. That can also be seen by the introduction of the Inflation Reduction Act, a giant pot of money with billions of dollars to stimulate investments in green production and clean energy. Only if produced in the US, of course.
And to conclude: 'It'll all work out in the end.' Rob has great confidence in humanity's ability to adapt. 'Our adaptive ability is truly immense', he says, but it's a shame if mindless policy drags us down through things that could well have been avoided. And we have much too much of that.'
ESG Even Samen Gevat is a podcast series (in Dutch) in which Aldert Veldhuisen and Marloes Bergevoet talk to accelerators of the sustainable transition. They discuss topics related to the "E", like green energy, CO2 emissions, raw materials, biodiversity, the "S" of health, diversity and inclusiveness and the "G" such as laws and regulations and international cooperation. Also published in this series are:
Follow Even Samen Gevat so you don't miss an episode!