In 2022, biodiversity was put high on the political agenda. World leaders and the private sector came together at COP15, the United Nations' biennial biodiversity congress. Here, they took steps to assess the extent and rate of biodiversity loss. Now it is time for the next step: implementation and action. Waiting longer will cause irreparable damage. To preserve biodiversity, knowledge and promises must be accelerated into policy and market-driven change.
Concrete policy measures will be discussed at COP16 in late 2024, but many companies are already offering solutions to make supply chains more resilient and sustainable. BNP Paribas foresees a rapid increase in biodiversity impact investments. Especially 'enablers', companies that offer solutions to reduce the impact of harmful industries on nature, are in the spotlight. Examples include precision fermentation, which replaces animal products with animal-friendly alternatives. For instance, vegan chicken egg whites are already being produced for commercial purposes, and an alternative for leather has been developed. Enablers also offer outcomes for horticulture, such as vertical farming and RNA biopesticides. They eliminate the need for large-scale use of soil-polluting chemical pesticides in horticulture, preserving important organisms like bees and soil microbes.
But the strongest business cases so far are from enablers with circular economy solutions. A well-known example is Fairphone, a sustainably produced modular smartphone that puts people and planet first. If damaged, the modular design allows the screen or other electrical parts to be replaced quickly and at low cost. At the end of its life, Fairphone has a recycling programme to give your old phone a new life. Companies like Fairphone that integrate circularity into their supply chain are well positioned to exploit commercial opportunities and reduce supply chain risks through dependence on raw materials. For instance, green energy for the reuse of materials is an important pivot between the Energy and Industry sectors. This is a connection that is necessary to now truly approach climate warming and biodiversity loss as the other side of the same coin.
Policy and innovation
This year saw several international meetings where policies for the most vulnerable areas took shape. These included the UN Convention on the High Seas, the International Forum on Forests and the World Biodiversity Summit in New York, where international cooperation agreements were reached to effectively address issues that transcend national borders. In addition, the Global Biodiversity Framework forces governments to review their biodiversity strategy and action plans even before COP16. An important step was also taken in the area of financial reporting with the launch of a framework for measuring nature-related risks. The integration of the Taskforce on Nature-related Financial Disclosures framework into corporate reporting is expected to boost investment in sustainable growth. During Climate Week NYC 2023, BNP Paribas announced a donation to IUCN to support their work. IUCN analyses and addresses the five main types of pressures on nature that affect biodiversity: changes in land and sea water use, direct exploitation of organisms, climate change, pollution and invasive species.
Besides biodiversity loss, the increasing shortage of drinking water also poses a direct threat to global food supplies. Adaptations to climate change to mitigate these risks are becoming increasingly urgent and investments in innovative water management, such as wastewater recycling, need to be scaled up. The need to reuse water is increasing under pressure from stricter regulations. Enablers operating in this field are seeing an explosion in demand for their solutions, offering an opportunity to invest in responsible economic growth.
An intertwined future
The future of biodiversity and water management are closely intertwined. Biodiversity plays a crucial role in regulating the water cycle. The challenges of the 21st century require joint efforts and investments in both conservation and smart water management. A good example is Ahold Delhaize's targets for reducing food waste in its own operations. Already since 2016, as the initiator of the 10x20x30 Food Loss and Waste Initiative, Ahold-Delhaize has reduced food waste by 33%. In doing so, it has committed to a series of ambitious sustainability performance targets.
Rado Georgiev, strategic sustainability advisor at BNP Paribas Netherlands: "in recent years, we have witnessed floods, landslides, storms and droughts, which are more frequent and severe due to climate change. But water resources are also being affected. This puts basic needs and the humanitarian right to clean drinking water and sanitation under pressure. In the Netherlands too, and even in the most optimistic scenario, summers will become drier and winters wetter due to climate change, according to the new KNMI climate scenarios. These developments require water-intensive industries, such as utilities, chemicals and technology, to adapt. They need to start applying water management strategies and incorporate circularity and preferably nature-based solutions in their climate change plans."
With transactions for Tennet, KPN, JDE Peet's and Stedin Groep in one week, the month of November has started well for BNP Paribas. The green bonds for Tennet and Stedin and the sustainability-linked bond for KPN clearly show the demand in the Dutch market for green financing solutions.
The bond issue of Koninklijke KPN N.V. is the first sustainability-linked bond in the European Telecom sector and represents a value of EUR 700 million with a tenor of 12 years.
TenneT has successfully priced a new senior Green Bond of EUR 1 billion, representing its largest ever issue-size. The proceeds will be used to invest in eligible green power transmission projects in the Netherlands and Germany focused on connecting large-scale offshore wind farms to the onshore electricity grid and enhancing the onshore transmission capacity for renewable energy
Stedin Group has issued its second green bond. The proceeds from the EUR 500 million issue will be used to invest in a wide range of sustainable projects such as connecting new wind turbines and solar farms to Stedin's electricity network and energy-efficient buildings.
In addition, we supported JDE Peet's with the pricing and issuance of EUR 600 million single-tranche notes. The proceeds will be used to refinance existing debt facilities and for general corporate purposes.
Murray Black, head of DCM The Netherlands: "At BNP Paribas, we support our clients with financial solutions, industry knowledge and we apply ESG-understanding and technology for their sustainable strategy. We are proud to be able to use our global capabilities for our customers and thus play a pioneering role in the development of sustainable finance."
Guido van den Brande, co-head of corporate coverage The Netherlands: "We are in an ongoing dialogue with our customers about how we can meet their financing needs in a sustainable way. We clearly see a shift here; it is increasingly natural for investors to integrate ESG into their portfolio. By bringing supply and demand together, we contribute to the sustainable growth of our customers."
In 2021, BNP Paribas received awards for "Best bank in the world for sustainable finance" and "Best bank in the world for ESG data and technology" from Euromoney.
Amsterdam, 26 October – BNP Paribas Nederland, Arcadis, and G&S Vastgoed today announced their plan to move into joint new headquarters at the Zuidas in Amsterdam mid-2024. The office building will be built on the last remaining Mahler plot on the corner of the Parnassusweg and the Claude Debussylaan. The shared ambition is to achieve a new standard for healthy and future-proof office buildings. The building has been acquired by a.s.r. real estate, which will add it to the portfolio of the ASR Dutch Mobility Office Fund.
On the first day of Provada 2021, the involved parties jointly announced to be the initiators of the project as well as the future tenants of the building. Arcadis is responsible for the sustainable design and engineering, BNP Paribas Real Estate and G&S Vastgoed developed the RE\DEFINE-philosophy applied to this project, to realise sustainable, healthy, and productive offices. G&S Vastgoed is also responsible for the project development. The three parties have been collaborating successfully on the 'vertical forest' Wonderwoods in Utrecht's city centre.
The ASR Dutch Mobility Office Fund is involved as an investor in both project Wonderwoods and in this newly announced initiative on the Zuidas. The office fund of a.s.r. real estate is the only Dutch fund to focuse entirely on office buildings located in public transport hubs in the Netherlands.
The design of the headquarters is being developed by Florian Idenburg, a Dutch architect who has been running SO-IL architects in New York since 2008 with Jing Liu. Among other things, Idenburg designed the recently opened Amant Art Campus in Brooklyn, New York. He is known for his innovative use of materials, such as a handmade 'chainmail' veil that he designed for the Kukje Gallery in South Korea.
Sustainability is an important principle in developing this office building. With their own headquarters, Arcadis, G&S Vastgoed, and BNP Paribas Nederland now have a unique opportunity to set the bar high and use the building as a breeding ground for new sustainable concepts. Sustainability goes beyond the environmental impact of construction and development – it is also about enhancing the long-term liveability of the built environment. To this end, G&S Vastgoed, in collaboration with Arcadis and Transsolar, developed innovative construction techniques with the ambition of realising the most sustainable building on the Zuidas.
BNP Paribas Nederland has signed a letter of intent to establish its new headquarter in the Zuidas, where the various entities of the bank in the Netherlands can come together at one location. The central location on Parnassusweg, the nearby new Zuidas NS railway station, and the already developed Mahler car park, together offer various possibilities for a flexible mobility mix for employees.
At the ground level, The Cube is being developed where visitors of the Zuidas and Amsterdam citizens will be able to discover sustainable and digital innovations from Dutch origin.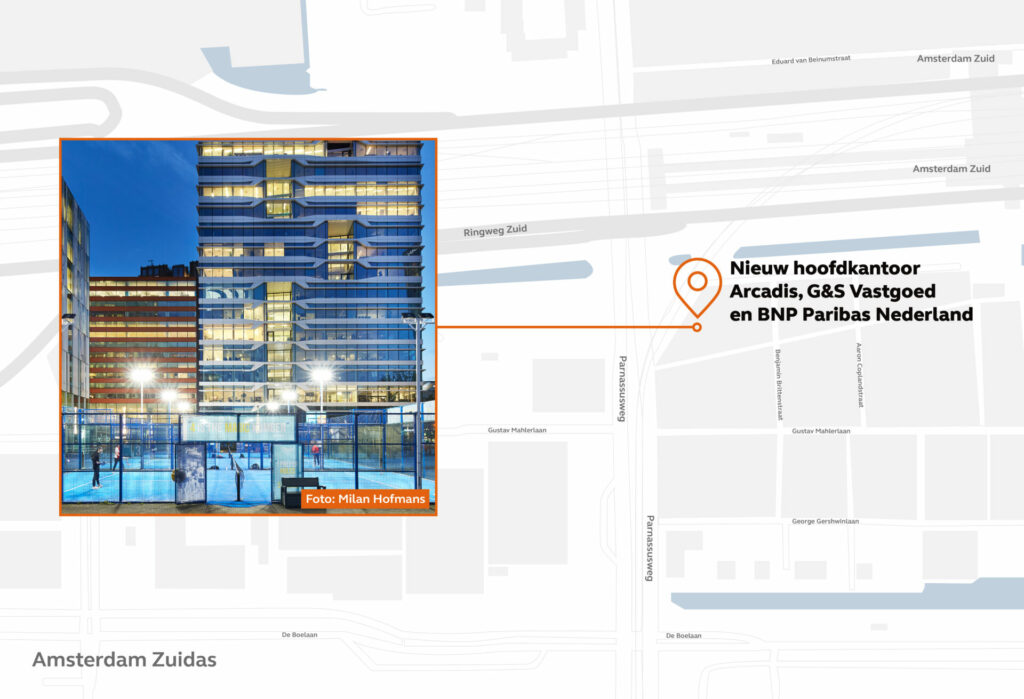 Geert Lippens, CEO BNP Paribas The Netherlands: "The new headquarter in Amsterdam reflects our growth ambitions in The Netherlands. By bringing our various entities closer together in one headquarter, we will accelerate the One Bank strategy and clients will benefit fully from our interdisciplinary approach and broad international expertise. I am proud to be developing a headquarter that sets a new sustainability standard. With the expertise of BNP Paribas Real Estate, Arcadis, and G&S Vastgoed, we intend to inspire others to develop future-proof concepts for the next generation. Supporting our clients in their pursuit of sustainable and responsible growth is what we stand for, and the new headquarter underscore this ambition."
Jason Blackmore, Managing Director G&S Real Estate: "The partnership with Arcadis and BNP Paribas Real Estate has proved to be a success formula that has made us not only happy to take on this project, but even to move in together. Nowadays, building as sustainably as possible is a requirement, but we are convinced that current times call for going a step further. We are therefore very proud that, together with our partners, we are realising this sustainable project on the last Mahler plot at the Zuidas.
Carolien Gehrels, Global Director Energy Transition Arcadis: "In recent years we have worked intensively on future-proof buildings that respond to the consequences of climate change. We use the most sustainable materials and digital applications, with the requirements and demands of the users and the residents as the most important starting point. We are proud to be able to demonstrate this in our 'own' headquarter. The building symbolises Arcadis' ambition to be climate neutral in all respects by 2035."
Pieter Vandeginste, Fund Director ASR Dutch Mobility Office Fund: "We are extremely proud to acquire the development of the last Mahler plot on the Zuidas. This great sustainable office building fits perfectly into the line-up of our current pipeline which includes Wonderwoods , EDGE Eindhoven, and Tree House in Rotterdam. The location near the station, high sustainability ambitions, and leading organisations such as BNP Paribas, Arcadis and G&S Vastgoed as tenants complete the picture for us."
The green financing concerns a new lease construction by BNP Paribas for a project of more than 28,000 solar panels on a 7-hectare solar meadow;
The 7-hectare solar meadow will reduce CO2 emissions by 5.1 million kilograms a year and is part of the 17-hectare Cosun Solar Park;
Every year,

9.2 million

kWh of renewable energy is generated to supply the speciality factories of the subsidiary Cosun Beet Company with green energy.
Royal Cosun, a leading international agricultural cooperative, has signed a 10-year lease contract with BNP Paribas Leasing Solutions to finance more than 28,000 solar panels located at the Cosun Solar Park in Puttershoek. This is the first green financing Cosun has concluded and it contributes to the ambition of becoming CO2 neutral by 2050. This is the third investment in solar panels that Royal Cosun has made in recent years. Solar panels had previously been installed on the roof of the cold store of Aviko, a subsidiary in Steenderen, and on the roof of the new Aviko production plant for frozen fries and potato flakes in Poperinge, Belgium. The investment in the solar meadow project, which has now been completed, will generate a total of 9.2 millionkWh per year: this is equivalent to the energy consumption of approximately 3250 Dutch households.

The lease construction, developed by BNP Paribas Leasing Solutions, is a first for the financing of solar parks in the Netherlands and internationally one of the first on this scale. This customised solution provides Royal Cosun with greater flexibility in its financing options for its regular investments. The financing of solar parks is a logical next step for BNP Paribas Leasing Solutions in expanding the possibilities for the financial lease of sustainable goods such as charging stations, LED solutions, E-bikes and solar panels.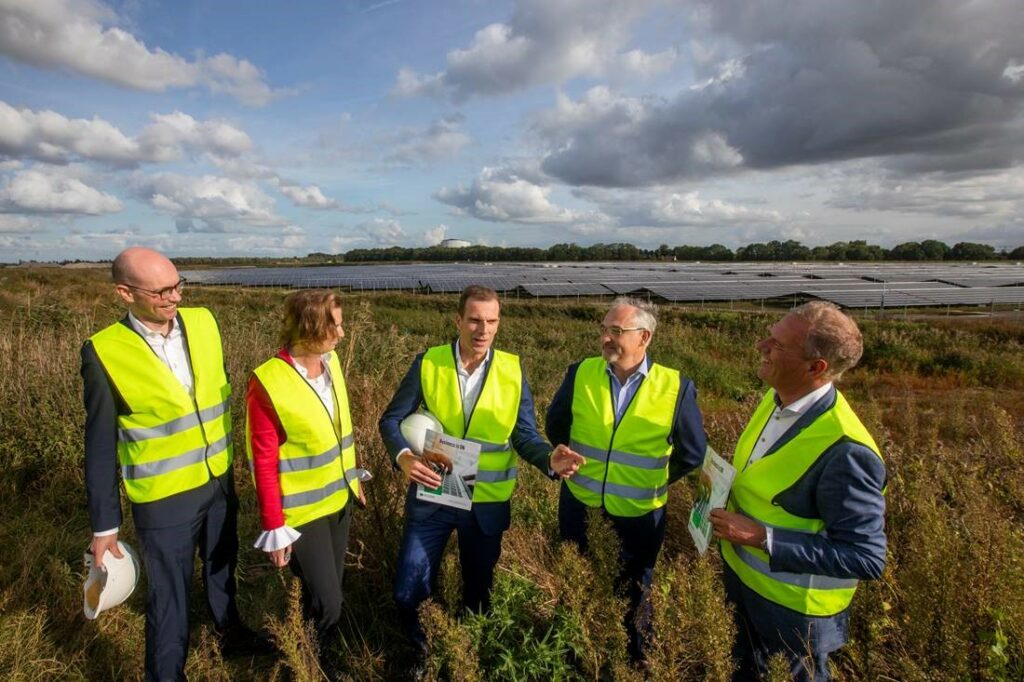 Hans Meeuwis, CEO of Royal Cosun: "We are delighted that we have secured tailor-made financing for our solar meadow with BNP Paribas Leasing Solutions. This fits in with our aim of maximum energy efficiency and making energy use greener, and it helps to further realise our CO2 reduction targets."
Geert Lippens, CEO of BNP Paribas Nederland: "The cooperation with our partner Royal Cosun is in line with BNP Paribas' commitment to provide green financing solutions to its customers. It is a prime example of our One Bank strategy: the interdisciplinary cooperation within BNP Paribas Netherlands has culminated in the development of a customer-oriented lease construction that can be added to the wide range of financing options that contribute to the realisation of the Paris climate objectives."
The 17-hectare Cosun Solar Park is located on the site of the former Cosun Beet Company sugar factory. This site with industrial zoning is being redeveloped into a sustainable business park with a harbour basin. The 7-hectare solar meadow, which is owned by Cosun, is directly connected to the nearby Cosun Beet Company specialities factory to make the factory's entire electricity consumption sustainable. The speciality factory in Roosendaal will also become more sustainable by using the surplus of renewable energy generated by the solar meadow. The Cosun Solar Park has more than 65,000 solar panels, 10 hectares of which were purchased by the Klimaatfonds Nederland at the end of 2020, and will supply energy directly to the Dutch energy grid.