Half of all Dutch households are financially vulnerable. No fewer than 75,000 households will run into payment problems within 3 months if an income were to be lost. Every year, 25,000 families run into financial difficulties due to the death of a breadwinner. Too often death, job loss or incapacity to work means that a household can quickly no longer afford the monthly costs. With more attention to their own finances, this is not always necessary, which is why Adfiz, BNP Paribas Cardif and Scildon have joined forces. Together with financial advisors, they will draw attention to these risks. With short videos, infographics and postcards, they want to help consumers start the conversation.
Money matters are in the top 3 of New Year's resolutions every year. These are often very practical and tangible resolutions. The majority (41%) want to save for a buffer. Less unnecessary spending (36%) and being more frugal (35%) are also popular, according to research by Wijzer in Geldzaken. More is often needed to be financially prepared for impactful events. Sometimes the risks are so great that insurance is necessary. At the moment, this is not yet the case in many situations. For example, 60% of homeowners and 31% of tenants have insurance against the financial consequences of death. Less than 5% of homeowners have mortgage insurance against loss of income due to disability and unemployment, while the decline, despite the social safety net, may be too great to be able to continue to pay existing (fixed) monthly payments. This does not only apply to consumers with lower incomes. But especially among young dual earners who are currently often dependent on living space with (very) high rents.
Insight
Adfiz director Enno Wiertsema: "It is difficult for many people to properly estimate a real risk. And the solution requires more than online calculation tools or just taking out a policy. It really starts with awareness and insight. You have to dare to confront yourself and answer very honestly to questions such as: what do I want to be able to continue to do, how important is it that I can continue to live here, what income may be lost, how big is my buffer really. It makes no sense to count yourself rich, but how do you avoid arranging more buffers and insurance than necessary? Advisors are pre-eminently capable of holding up that mirror."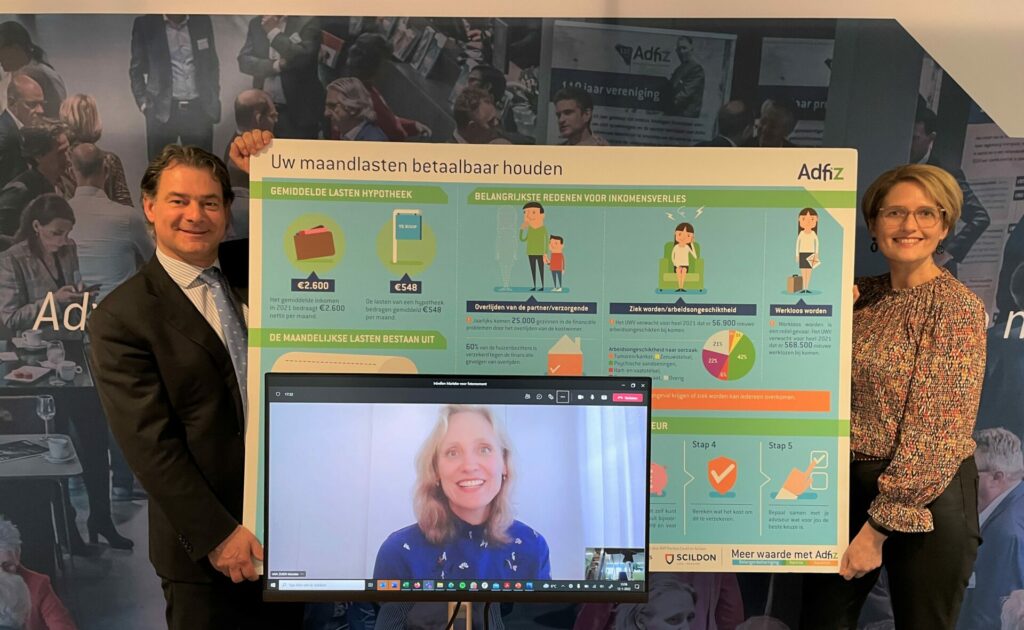 The three organizations outline a 5-step plan for advisors and their clients to deal with these risks.
Step 1: Calculate what you need each month
Step 2: See what the financial consequences are if something happens to you
Step 3: See if you can catch it yourself and for how long
Step 4: Check whether you can (partially) insure it and what that costs
Step 5: Decide what is the best choice for you
High costs of living
Marieke van Zuien (CCO BNP Paribas Cardif Belgium and the Netherlands) points out the extra risks in the current housing market:
"Certainly now that there are often outbids and greater risks are taken, it is very important that consumers discuss the impactful risks with their adviser. The consequences of illness, death or unemployment can be enormous. Consumers often underestimate these risks. That is why it is essential to carefully determine with the adviser how the client prepares financially for those possible situations."
More than a mortgage and insurance
Ingrid Oudhuis (Director of Businessline Particulier Scildon) points out the importance of a realistic view of risks:
"The social value of the financial advisor is that they also enter into discussions with their clients about financial subjects that clients themselves do not give enough thought to. The financial impact of death on the next of kin is one such topic. Whether it concerns young people in expensive rental homes, families in owner-occupied homes where the income of both partners is needed to pay the housing costs, the security of alimony or in a business setting the unexpected death of a partner in the company. In practice, it is the advisor who explains and advises clients to do what is sensible for them. Scildon believes in the added value of the advisor. With the step-by-step plan developed, the advisor can map out the financial risks together with his clients. And advise them on a suitable solution."
Visit here for all information, video's and infographics.