Over 3GW of aggregated installed renewable energy capacity funded in the first year
The aggregated installed capacity, funded by the strategic partnership of BNP Paribas and NN Investment Partners (NN IP), has surpassed 3 gigawatts, generating enough clean energy to power over 2 million homes. One year after the initiation of the partnership, the capacity funded by the renewable energy loans, amounts to a reduction in carbon emissions of approximately 2.3 million tonnes of CO2 per annum.
BNP Paribas is one of the market leaders in Europe in renewable energy loans and has doubled its financing of renewable energy in four years to €15bn at the end of 2020. Both BNP Paribas and NN IP are increasing their investments in renewable energy to accelerate the energy transition and contribute to a more sustainable future. BNP Paribas originates and underwrites loans for its own balance sheet and for its clients. Subsequently, BNP Paribas distributes part of these loans to NN IP's institutional investors, accommodating increased investor demand. NN IP is targeting to invest 500 million euros on behalf of its clients in renewable energy loans via the partnership with BNP Paribas. The collaboration perfectly fits the shared ambition in making renewable energy more accessible to institutional investors, while allowing both BNP Paribas and NN IP to increase their commitment to net-zero emissions by 2050.
Geert Lippens, CEO BNP Paribas Netherlands, says: "We are very pleased that within one year, we have realised 40% of the renewable energy loans that NN IP targeted to invest. The partnership perfectly suits our ambition to accelerate the energy transition by making renewable energy accessible to all investors. Due to our longstanding experience in the financing of renewable energy projects, we are uniquely positioned to offer this expertise to our clients as well as giving them access to the largest renewable energy projects in Europe."
Valentijn van Nieuwenhuijzen, CIO NN IP, adds: "One of the ways through which we positively contribute to society is by accelerating the energy transition, which is a key theme within our responsible investing strategy to work towards a more sustainable path. Being a leader in responsible investing and a frontrunner in alternative credit makes this partnership with BNP Paribas a good fit. The partnership allows for increased deal volumes for our clients, accommodating their growing interest in renewable energy loans. We have great confidence in this partnership and are continuously looking to broaden opportunities for investors to invest responsibly."
NN IP is one of the signatories of the Net Zero Asset Managers Initiative, which aims to achieve emissions reduction targets by 2030 and reach net zero by 2050 or earlier.
BNP Paribas is one of the founding members of the industry-led, UN-convened Net-Zero Banking Alliance that brings together 43 banks, which are committed to aligning their lending and investment portfolios with net-zero emissions by 2050.
The green financing concerns a new lease construction by BNP Paribas for a project of more than 28,000 solar panels on a 7-hectare solar meadow;
The 7-hectare solar meadow will reduce CO2 emissions by 5.1 million kilograms a year and is part of the 17-hectare Cosun Solar Park;
Every year,

9.2 million

kWh of renewable energy is generated to supply the speciality factories of the subsidiary Cosun Beet Company with green energy.
Royal Cosun, a leading international agricultural cooperative, has signed a 10-year lease contract with BNP Paribas Leasing Solutions to finance more than 28,000 solar panels located at the Cosun Solar Park in Puttershoek. This is the first green financing Cosun has concluded and it contributes to the ambition of becoming CO2 neutral by 2050. This is the third investment in solar panels that Royal Cosun has made in recent years. Solar panels had previously been installed on the roof of the cold store of Aviko, a subsidiary in Steenderen, and on the roof of the new Aviko production plant for frozen fries and potato flakes in Poperinge, Belgium. The investment in the solar meadow project, which has now been completed, will generate a total of 9.2 millionkWh per year: this is equivalent to the energy consumption of approximately 3250 Dutch households.

The lease construction, developed by BNP Paribas Leasing Solutions, is a first for the financing of solar parks in the Netherlands and internationally one of the first on this scale. This customised solution provides Royal Cosun with greater flexibility in its financing options for its regular investments. The financing of solar parks is a logical next step for BNP Paribas Leasing Solutions in expanding the possibilities for the financial lease of sustainable goods such as charging stations, LED solutions, E-bikes and solar panels.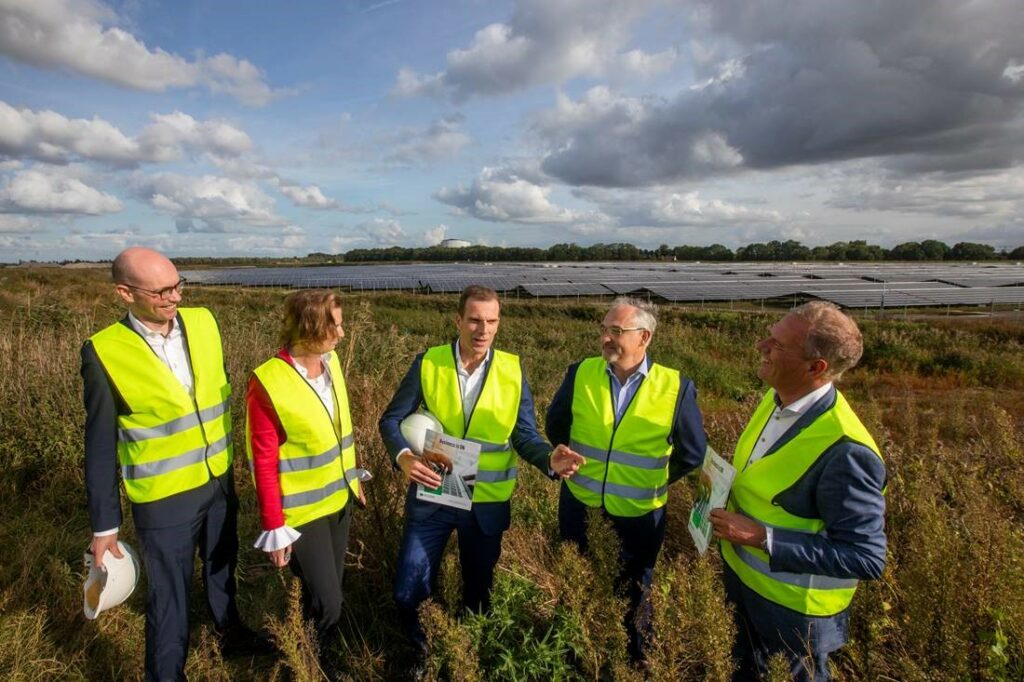 Hans Meeuwis, CEO of Royal Cosun: "We are delighted that we have secured tailor-made financing for our solar meadow with BNP Paribas Leasing Solutions. This fits in with our aim of maximum energy efficiency and making energy use greener, and it helps to further realise our CO2 reduction targets."
Geert Lippens, CEO of BNP Paribas Nederland: "The cooperation with our partner Royal Cosun is in line with BNP Paribas' commitment to provide green financing solutions to its customers. It is a prime example of our One Bank strategy: the interdisciplinary cooperation within BNP Paribas Netherlands has culminated in the development of a customer-oriented lease construction that can be added to the wide range of financing options that contribute to the realisation of the Paris climate objectives."
The 17-hectare Cosun Solar Park is located on the site of the former Cosun Beet Company sugar factory. This site with industrial zoning is being redeveloped into a sustainable business park with a harbour basin. The 7-hectare solar meadow, which is owned by Cosun, is directly connected to the nearby Cosun Beet Company specialities factory to make the factory's entire electricity consumption sustainable. The speciality factory in Roosendaal will also become more sustainable by using the surplus of renewable energy generated by the solar meadow. The Cosun Solar Park has more than 65,000 solar panels, 10 hectares of which were purchased by the Klimaatfonds Nederland at the end of 2020, and will supply energy directly to the Dutch energy grid.