BNP Paribas Real Estate signs partnership with distributor Quantum Projects
April 15, 2021
BNP Paribas Real Estate Netherlands announces today that it has entered a strategic partnership with Quantum Projects, a distributor with global sales rights of amongst others air purifiers of ActivePure Technologies from technology company Aerus. These air purifiers are the only ones in the world that use certified aerospace technology and can actively remove bacteria, viruses and fungi from both the air and surfaces, including the COVID-19 virus. This new technology fits the RE\define housing programme of the future. RE\define is a knowledge platform developed by BNP Paribas Real Estate Netherlands, ARCADIS, G&S Vastgoed and MMEK to work together on a healthy and safe living environment.
After successful applications in government buildings, hospitals, schools and numerous other (public) buildings in the North American market, Aerus in cooperation with Quantum Projects will now also enter the Benelux market with its ActivePure technology. In 2017, ActivePure Technologies, formerly known as Aerus Holdings, was recognised by the Space Foundation[1] as the only surface and air-purification technology to effectively adapt and market technology originally developed for NASA to improve the quality of life for all humanity. The Aerus' air purifiers produce submicroscopic hydroxyls and ions, so-called ActivePure molecules, that destroy contaminants. People who work or live in rooms where the air purifiers are installed are therefore less exposed to viruses, including RNA and DNA viruses, bacteria and fungi. Independent scientific studies repeatedly show that the patented ActivePure technology is the most powerful air and surface cleaning solution ever. More than 99% of micro-organisms and airborne contaminants on the surface are reduced.
"BNP Paribas Real Estate Netherlands has always been actively involved in creating better and safer working and living environments and this has been accelerated by the corona pandemic. As part of the RE\define programme, we work together with partners to create better and healthier places to live and to work, we equip organisations better for the challenges of today and of the future. The partnership with Quantum Projects enables us to make and keep spaces free of bacteria, fungi and viruses, including COVID-19. With Quantum and its ActivePure product line, we can further expand our service. We will soon offer the Aerus air purifiers to our clients and the clients of our RE\define partners," said Sicco Posthumus, CEO BNP Paribas Real Estate Netherlands.
"We are pleased about the strategic partnership with a top ten international real estate provider such as BNP Paribas Real Estate Netherlands. Forward-looking, future-oriented and with an eye for social interest were important criteria in our search for a partner. BNP Paribas Real Estate Netherlands felt like a perfect match from the start. They have an innovative mindset and focus on advising their clients on the subject of safe working during the COVID era. Their focus on the future of the office environment is an extension of our ambition to help reopen the Netherlands and prevent new lockdowns," said Roy de Ruiter, founder and managing director of Quantum Projects.
The performance of Aerus products has been scientifically proven for decades in independent FDA-certified laboratories. Testing of the ActivePure technology was conducted by one of the world's best testing facilities, the University of Texas Medical Branch (UTMB), which primarily tests for the US military and Centers for Disease Control (CDC). The UTMB study was conducted in late November 2020 at the Bio Safety Level (BSL) -3 and -4 laboratory that studies the world's most deadly pathogens. In tests, the ActivePure technology deactivated more than 99.9% of the highly concentrated SARS-CoV-2 airborne virus in just 3 minutes, to below detectable levels.
[1] The inauguration in the Space Technology Hall of Fame occurred during a reception which was sponsored by SpaceX.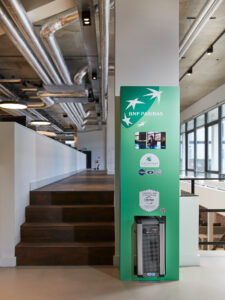 Active Pure Technology bij BNP Paribas Real Estate (c) Milan Hofmans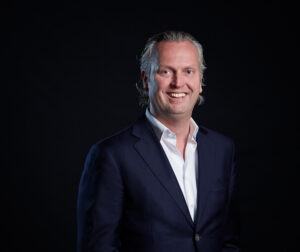 Sicco Posthumus, CEO BNP Paribas Real Estate (c) Milan Hofmans