BNP Paribas CEO Geert Lippens: 'The societal role of banks is underrated'
August 1, 2022
Banks play an important role in society, but they're not the right ones to be lecturing companies. Director Geert Lippens of BNP Paribas Nederland is clear about that. 'Sometimes you hear that banks should make sustainability mandatory, but that's a dangerous philosophy.'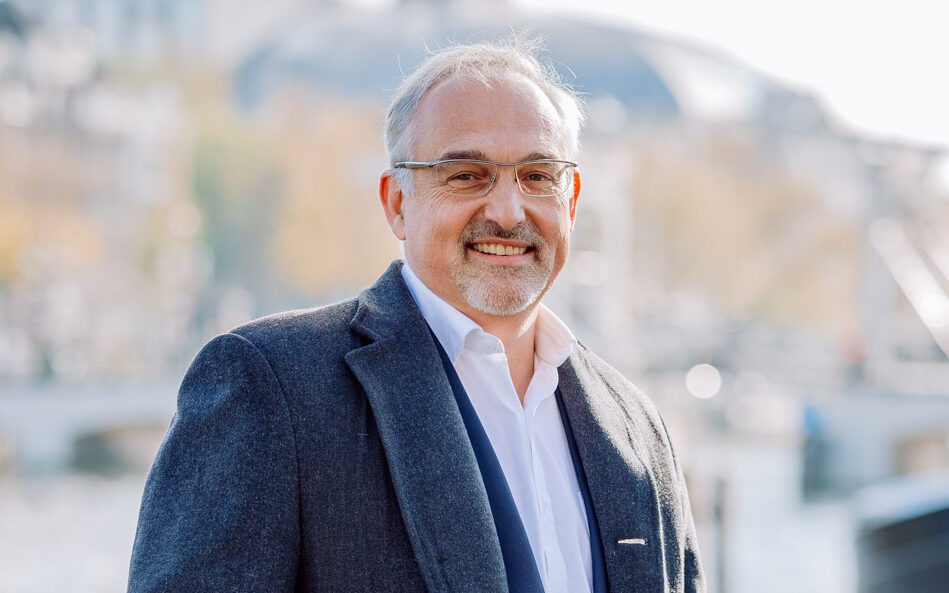 'We want to see specific results, but it's dangerous for a bank to lecture customers. That's not the idea. Ultimately, they're the ones with the expertise. They're the experts in their fields.' At the end of the day, that's for customers – not BNP Paribas – to decide for themselves.
'The government is the one that makes the rules. Banks have always had a different position. We play a societal role, and we're really passionate about that – but we're not the government. All we can tell customers is that is you don't evolve, you run the risk of us saying "game over" at some point. From then on, we stop financing.' But that last step is something he'd rather not do. That's why Lippens also wants to stimulate companies to invest in reducing their emissions and help finance the necessary innovations.
A modest banker
Geert Lippens is an old pro at banking. 'For 30 years, I had to keep evolving. And that definitely needs to continue, because it makes the job interesting', says the man from Flanders. He experienced the financial crisis of 2008 up close. He worked for Fortis, one of the banks that had to be bailed out. The crisis brought bankers down to earth. Lippens feels he'd actually always been relatively down-to-earth. Nevertheless, he sees it as one of the most important lessons from the past years. That goes for BNP Paribas too. 'You have to stay very modest. While we could certainly shout out that we're the biggest and that our history goes back 200 years, our role in society is ultimately to facilitate. We need to help. Modesty is an important word for a banker.'
At BNP Paribas, he thinks a division like asset management can be more vocal. 'In asset management, you can be more of a front runner. Which is perfectly normal, since you're ultimately working with money that you manage for others.' He doesn't say it literally, but customer is king at the bank. 'Lots of customers just need the basic products, like working capital', Lippens emphasizes. But that doesn't mean the bank just sits back and does nothing.
Talking to Shell
'In some cases we've been more radical and said: We're not going to do that any more', says Lippens. Such as tobacco, shale gas and coal. 'We won't be financing a single new coal project. So that's an exit strategy.' In other sectors and companies, Lippens prefers to work together on how to change them. 'We're in dialogue with companies like BP and Shell to make it clear that they need a plan and a strategy for a transition; otherwise there'll come a point where they can no longer be financed.'
BNP Paribas follows the Paris Agreement Capital Transition Assessment (PACTA). The PACTA shows the extent to which a sector's technology mix and emissions are aligned with the Paris Agreement. By 2025, the bank wants to reduce its financing of oil by 12%. 'This is the trend that we're pursuing. So keep that in mind', he says to oil and gas customers.
It's a constant balance between supporting customers and urging them to change. This fits in with the shifting role that Lippens sees for the bank: from a simple product supplier to an adviser. Or as he puts it: a trusted adviser. It's about the bank's added value and how the bank helps these customers with the energy transition and in reducing their CO2 emissions. In the meantime, the bank has created a special team of 250 experts for this purpose: the low carbon transition group.
Nuclear power and hydrogen
The bank has greater than average expertise in certain areas. Such as in nuclear power. 'We've ultimately always stayed active in the nuclear sector', says Lippens. For instance, the bank was involved as a financial adviser in the construction of the nuclear power plant in Hinkley, in the UK. Now that nuclear power is most likely going to be seen by the European Union as a green investment – and more and more people in the Netherlands are in favour of it too – people will come to BNP Paribas for that as well. At the same time, Lippens emphasises that the energy transition is about more than just nuclear power. 'That's only a very small part of the whole energy transition', he says. BNP Paribas is focusing above all on renewable energy and infrastructure. The transport of green hydrogen is one of the infrastructural challenges that he sees. The bank might have a role to play there too.
Discussions about nuclear power and hydrogen are typical of the Netherlands. In this country, you often hear people talking about what comes next after natural gas. And we're also relatively advanced when it comes to driving on electricity. Lippens sees that difference every day, because he drives an electric car. 'In the Netherlands you have lots of rapid charging stations along the motorways, but once I'm outside the country I have to search for the charging points.' The Netherlands' advanced position in driving on electricity also has an effect on Arval, the leasing company of BNP Paribas. 'Arval has more fully electric vehicles in the Netherlands than in most other countries. In the Netherlands, that's one in five. In many other countries, that's more like one in ten.'
The Netherlands as a test site
Lippens already hinted at the size of BNP Paribas. In the Netherlands alone, BNP has ten divisions with a total of more than 1,200 employees. And the bank wants to grow by seven to eight per cent a year. Sustainability is part of that growth target, especially when it comes to mobility and the built environment. The French head office sees the Netherlands as a good test country. 'It's not too big, not too small.' That makes it an ideal test country.
That's why Arval's global research centre is in the Netherlands. The car hire company wants to transform into a provider of mobility. That means it also wants to offer electric scooters, bikes and public transport models. 'We want to create a kind of mobility hub at our new head office for our employees that can also serve as an example for our customers.' While BNP Paribas Real Estate develops the new head office, it's also working on sustainability possibilities for offices. 'And with BNP Paribas Personal Finance, we're looking into partnerships to finance a more sustainable housing market with consumer loans.'
From expertise in nuclear power to infrastructure and personal loans to mobility: the breadth of the bank is one of the reasons that Lippens loves the banking business. It sometimes bothers him that especially the Dutch see things differently. 'The societal role of banks is a bit underrated.' The image of banks and the low unemployment figures make it a challenge to retain talent. 'Everyone dreams of fintech and scale-ups', Lippens sighs. He emphasises that the bank is really where young people can make a difference. He hopes that the course towards sustainability helps. 'We're going to work with our customers so they can evolve. Which is why young people need to come on board, to help us make that difference.'
---