Champion of sustainability in the health care sector
August 2, 2023
In episode 28 of ESG (Even Samen Gevat) Marloes and Aldert speak with Wouter Hehenkamp, gynaecologist at Amsterdam UMC with a special interest in sustainability.
A report by the Dutch National Institute for Public Health and the Environment (RIVM) shows that 7.3% of the total carbon emissions in the Netherlands come from the health care sector. That makes the health care sector more polluting than the aviation industry. Wouter Hehenkamp is concerned about that and wants to work with his colleagues to do something about it. He's interested not only in his area of expertise – gynaecology, and minimally invasive surgery (operations where incisions are kept as few and small as possible) in particular – but also in sustainability. This year, he and his colleague and paediatrician Berber Kapitein received the Hugo Heymans Award for their efforts. Until recently, Amsterdam UMC had been running its Vision of Green (Blik op Groen) project, which tied in with the Green Deal for Caring Health Care (Green Deal Zorgzame Zorg). Vision of Green had four spearheads: waste, food, energy & buildings and transport. In the podcast, Wouter also mentions these spearheads and gives specific examples of how things could be done differently.
Waste
'The health care sector is responsible for about four per cent of the total amount of waste and thirteen per cent of the raw materials that are used', says Wouter. 'Those are some big numbers, which shows that the heath care sector actually needs to do something as well.' And waste flows can be reduced on a relatively small scale. An example: patients often expect a sticking plaster, but all those plasters that are applied in hospitals form a huge mound of waste. The same goes for sterile gloves. 'Those have a giant footprint and are often unnecessarily used or changed. We often use gloves too when there's no need at all, like when lifting a patient from the operating table onto a bed. That can easily be done without gloves.'
Another example: contraception. Women have their choice of a contraceptive pill or an IUD. 'It's highly likely that the pill is many times worse for the environment than the Mirena IUD', says Wouter. 'That kind of IUD can remain in place for six years; it's made once and inserted once and that's that. And then nothing needs to happen for six years. Compare that with taking the pill every day for six years, driving to the pharmacy to pick the pills up and go back again, all the materials used to package them and all those hormones that get into the surface water.' Studies show that patients are reasonably prepared to take that into consideration in their choice.
Food
Food is 'a pretty big piece' of the sustainability pie at hospitals. Several hospitals have already gone vegetarian, such as UMC Groningen and Radboudumc in Nijmegen, but what's interesting is that resistance to these kinds of changes comes more from employees than patients. In itself, that's understandable, says Wouter. Meat-eating employees would rather have the freedom of choice, especially 'if meat is important to you, and you work at the hospital every day and spend a good part of your life there.' That's different for patients. Nevertheless, hospitals are showing their leadership by making this choice. The staunch meat-eaters can always eat meat a home.
Energy & buildings
The energy used by buildings is also a big piece of the pie: 'Of course you can insulate, purchase green energy and plant green roofs. But employees can also just turn off their computer at the end of the day: 'About 10,000 people work on site at Amsterdam UMC and 8,000 in VUmc. So we're talking about a lot of people and a lot of computers.' Something else that can make a difference: turning off the light. But 'one of the biggest energy wasters is the air conditioning in the operating rooms. The ORs require three to six times more energy than the rest of the hospital, and air conditioning is a big part of that.' That's being looked into more closely now, and that will make a 'big difference in the amount of energy'.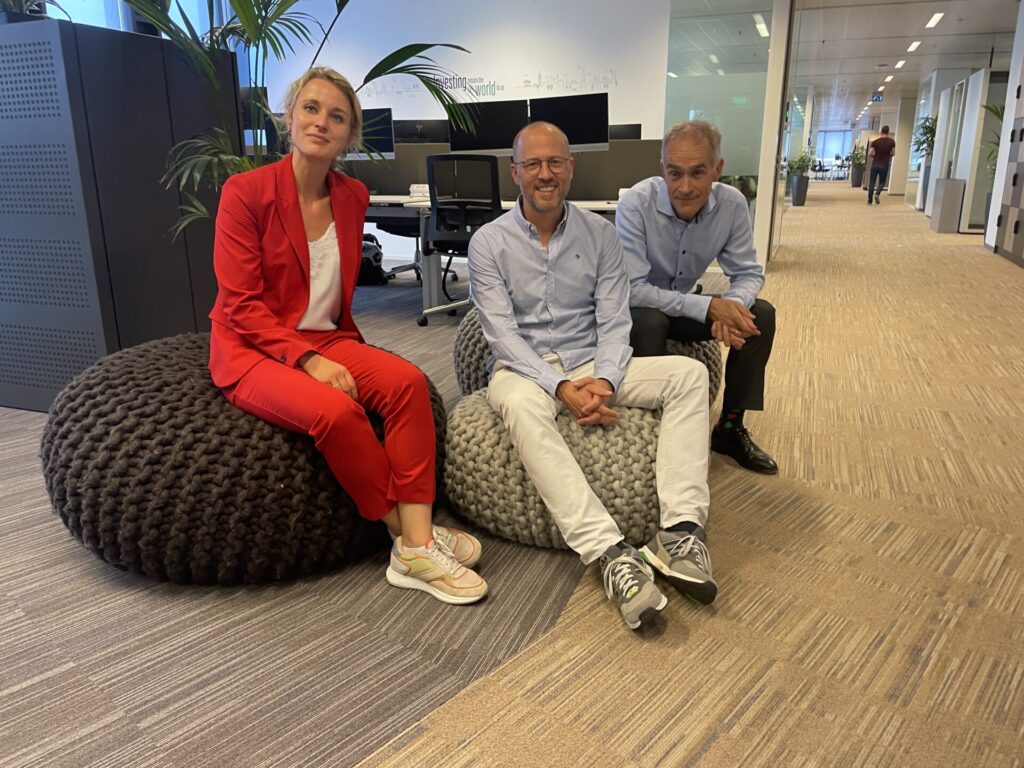 Transport
Transport is one of the areas that Wouter has personally got his teeth into. Previously, he and two of his colleagues wrote an article about this subject for the Nederlands Tijdschrift voor Geneeskunde, which is the main medical journal in the Netherlands. What concerns him is when people attend conferences in other countries. In his view, that kind of travel is only necessary if attending the conference 'is added value to make health care better'. That's usually not the case. 'Let's just organise the rest online or somewhere that's easy to reach by public transport.' But this is also about a change of behaviour among employees when it comes to commuting to work. Which is why Wouter's colleague Berber Kapitein has put together a request for a staff meeting about the hospital's transport policy. 'With proper information, maybe we in the health care sector can take a step down too.'
Dilemmas
Every little bit helps, but it's naturally all about the greater goal. 'I often talk about the vegetarian version of the typical meat croquette', says Wouter, 'but that naturally doesn't do a single thing when you look at the big picture. We need to look for where there's a big impact.' And that's not always easy. The same goes for things like economic issues: 'Quantification is incredibly complex, but we've been hard at work with a couple of champions of sustainability to take some really big specific steps.' But in the health care sector, ethical dilemmas also play an important role. Such as the question of what constitutes appropriate care for a terminal patient? 'Is undergoing a seriously heavy treatment to extend their life by a month really better care? In the case of cancer treatment, we can also opt for comfort.'
Another example that illustrates the complexity of such a dilemma: 'Suppose you're able to get fewer people to smoke or get people to quit altogether. Then those people will live much longer, and you might have created an advantage in the health care sector but not necessarily in relation to the total footprint of that person's life.' After all, the longer a person lives, the bigger their personal environmental footprint. But still, it's a complex discussion. There are also environmental considerations, for example. One of the questions that Wouter poses is 'How can we incorporate sustainability into cost effectiveness models? In other words, how high of a price for sustainability are we willing to pay for a certain quality of life? Ultimately, we in the health care sector also just want people to live healthily, and that by living healthily in a sustainable way you can also reach a very healthy old age without leaving a bigger footprint.'
ESG Even Samen Gevat is a podcast series (in Dutch) in which Aldert Veldhuisen and Marloes Bergevoet talk to accelerators of the sustainable transition. They discuss topics related to the "E", like green energy, CO2 emissions, raw materials, biodiversity, the "S" of health, diversity and inclusiveness and the "G" such as laws and regulations and international cooperation.
Also published in this series are:
Follow Even Samen Gevat here so you don't miss an episode!